Guardian (in Yellow), 2020
Oil and acrylic on canvas
108 x 36 in.
Courtesy the artist


A Source of Power, 2020
Oil and acrylic on canvas
108 x 36 in.
Courtesy the artist


Guardian (in Green), 2020
Oil and acrylic on canvas
108 x 36 in.
Courtesy the artist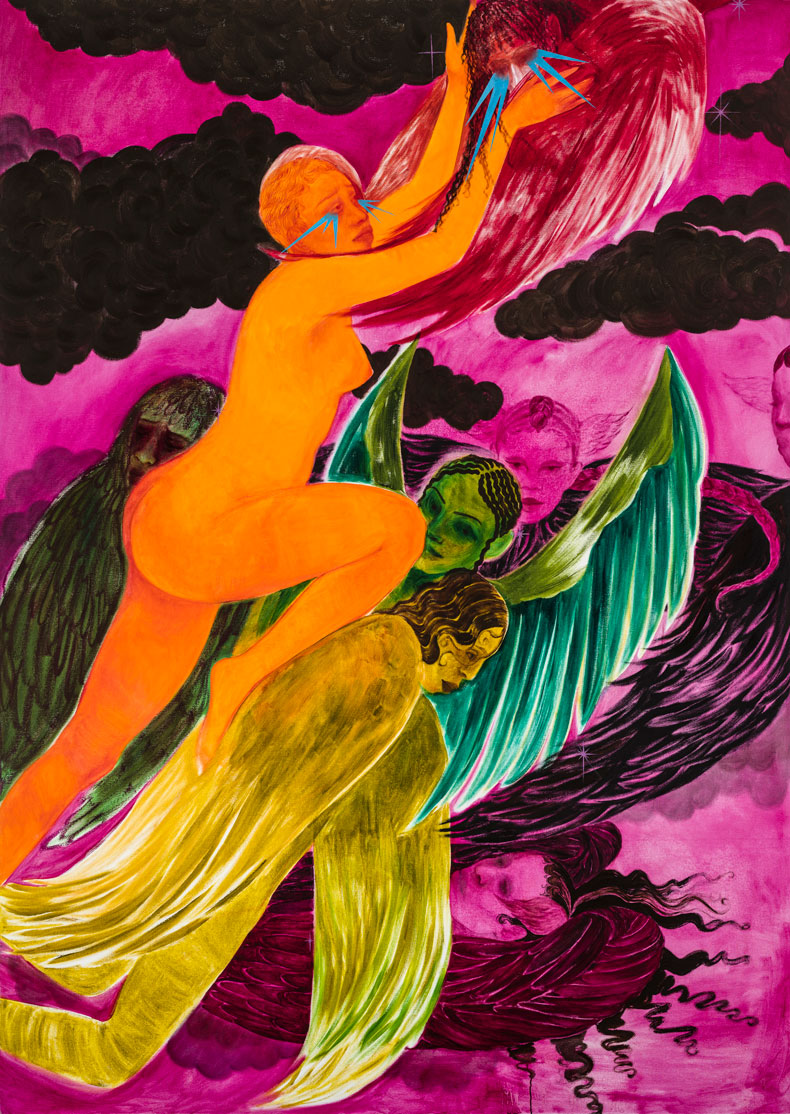 A Timely Rescue, 2019–20
Oil on canvas
84 x 60 in.
Courtesy the artist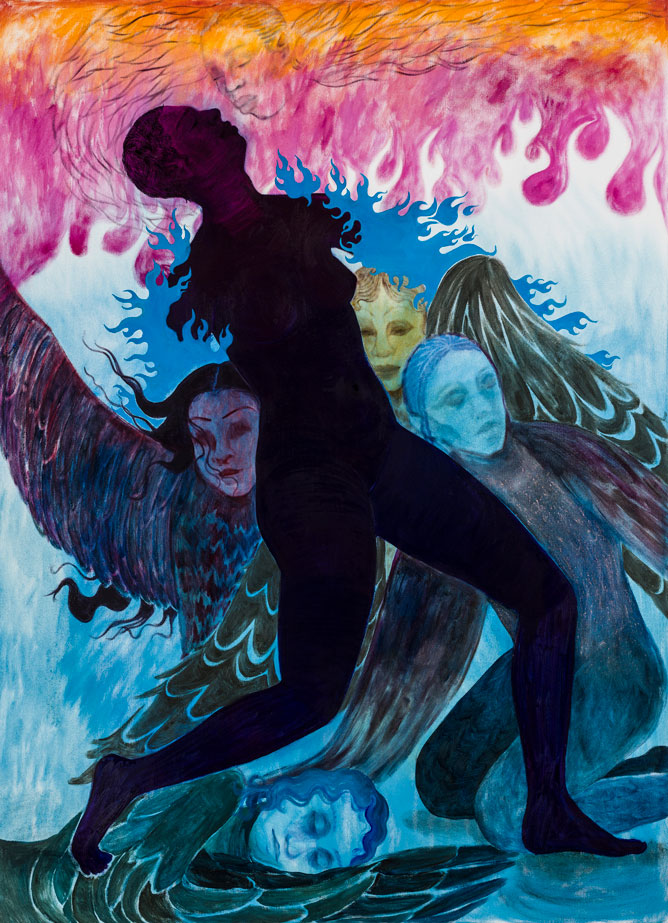 Tell Me Where It Hurts, 2020
Oil on canvas
66 x 48 in.
Courtesy the artist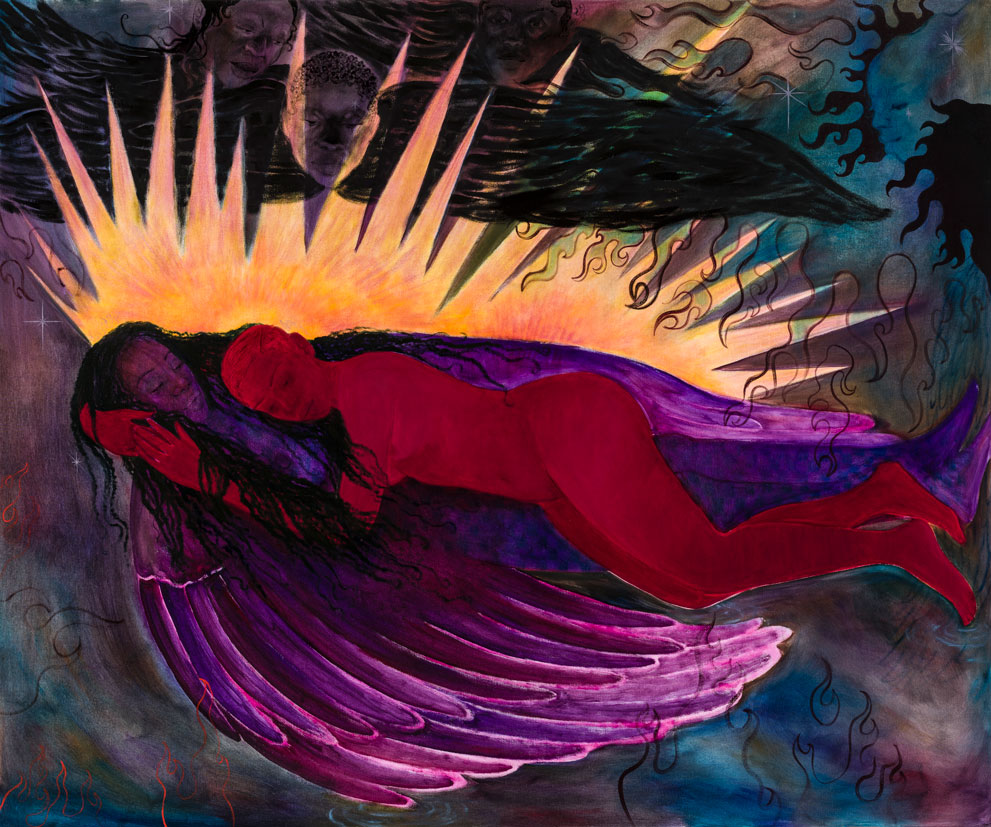 Affection and Protection, 2020
Oil on canvas
60 x 72 in.
Courtesy the artist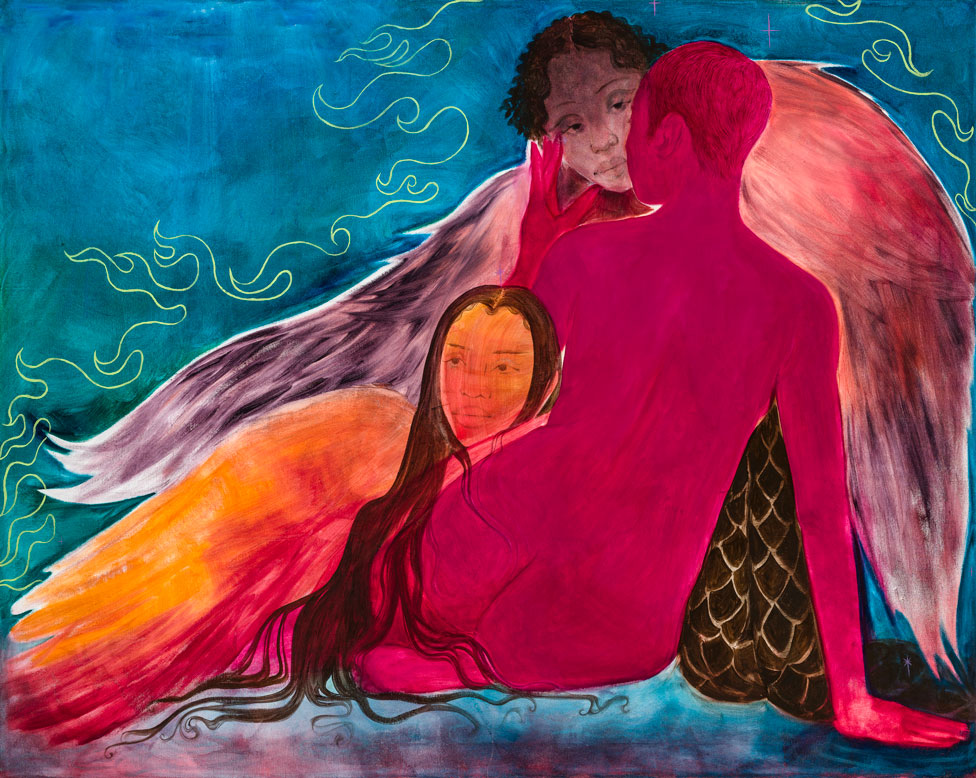 We Are Here, 2019–20
Oil on canvas
30 x 40 in.
Courtesy the artist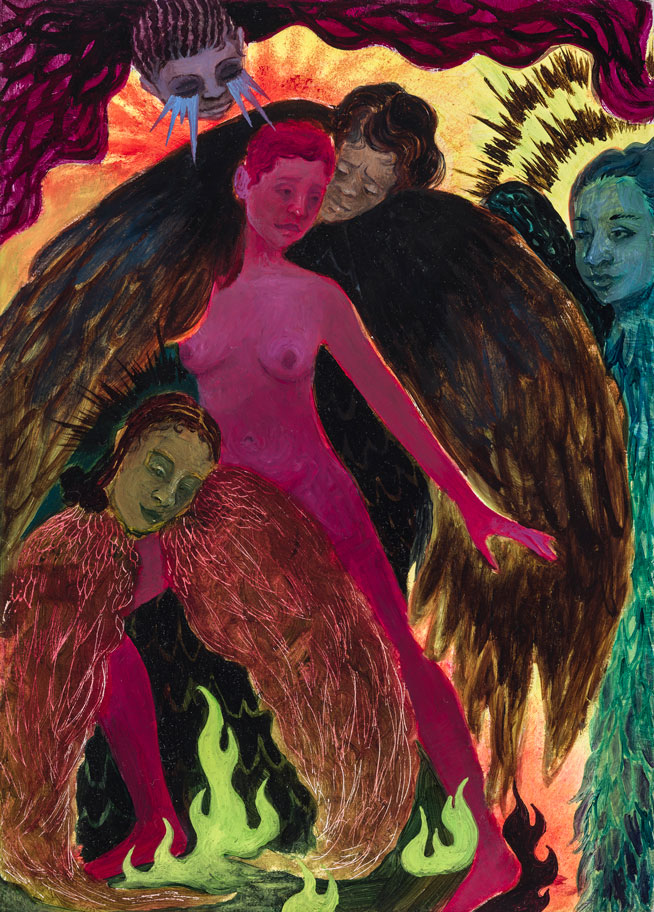 Abide in Me, Delight in Me, 2019–20
Oil on panel
7 x 5 in. Courtesy the artist
Contributors
JESSICA W. BONDS is a board-certified licensed psychotherapist practicing in the state of New York and the founder of Bonds Counseling and Healing Services. Ms. Bonds received her master's degree in clinical social work at New York University in 2001, and began her training in meditation and energy healing with Rose Fierra in 2010. She has continued to expand on modes of holistic self care, achieving certifications in hypnosis, Reiki, yoga, and sound healing. Most recently, she began training in Shamanic dreaming and journey work. She has a strong interest in Holistic self care. Ms. Bonds provides meditation workshops and sound baths in the New York area, and provides individual and group therapy at her practice in the Bronx, NY.
RAS CUTLASS is a sci-fi writer, mental health worker, and co-founder of Metropolarity sci-fi collective and Deep Space Mind 215. Her work can be found at metropolarity.net and cutlasstheory.com.
MIMI TEMPESTT is a multidisciplinary artist, poet, and daughter of California. She has a MA in Literature from Mills College, and is currently a doctoral student in the Creative/Critical PhD in Literature at UC Santa Cruz. Her debut collection of poems, the monumental misrememberings, is published with Co-Conspirator Press (2020). She was chosen for Lambda Literary Writers Retreat for Emerging LGBTQ Voices for poetry in 2021, and is currently a creative fellow at The Ruby in San Francisco. Her works can be found in Foglifter, Chaparral Press's Granada, Interim Poetics, and Honey Literary.
KIKI NICOLE is a poet and artist who works to archive Very Black Feelings. They have been invited to join fellowships and workshops with Pink Door Writing Retreat, The Watering Hole, In Surreal Life, and Winter Tangerine. Individual poems have been published or are forthcoming in The Shade Journal, beestung,Peach Mag, and more. They are currently a Poetry Editor for Muzzle Magazine and the 2021 Citizen Literary Fellow at Graywolf Press. They live in Charlotte, North Carolina.
Acknowledgments
Thank you to these brilliant and generous souls: Jessica W. Bonds, Ras Cutlass, kiki nicole, and Mimi Tempestt. I am incredibly grateful for your participation, for your writing, and for your use of the paintings as a point of departure for the individual contributions. I am in awe of each of you and the work that you've allowed us to experience here in this portal.
To The Studio Museum in Harlem, Public Programs and Community Engagement team—Daonne Huff, Chayanne Marcano, Isabelle Hui Saldana: thank you for organizing, coordinating, and walking with me through this process. From our very first meeting at the start of the residency until now, your warmth and commitment to this project has been spectacular. A very big thank you to Elizabeth Karp-Evans and Shanna Kudowitz, whose design and web-building skills made this digital portal possible. I am also immensely appreciative to the Studio Museum and MoMA PS1 for the opportunity to present these works and for the time and space to create during this residency.
Finally, I am forever grateful to the paintings for choosing me and for allowing me to access this place of endless possibilities.
May we find rest, and spaces into which we expand.
This Longing Vessel
This Longing Vessel: Studio Museum Artists in Residence 2019-20

E. Jane, Naudline Pierre, Elliot Reed

December 10, 2020–March 14, 2021

Visit the exhibition
MoMA PS1 22-25 Jackson Ave, Queens, NY 11101

View the exhibition online
studiomuseum.org moma.org
With practices spanning new media, performance, and painting, This Longing Vessel enacts a radical intimacy—a vessel to hold and be held by. In longing, the works shown here find the intersection between queerness and Blackness as a waypoint: one to yearn from, to reach toward, to leap beyond. This Longing Vessel troubles and excites ways of seeing, seeking new language for the building of extraordinary futures.
This exhibition is part of a multiyear partnership between:
The Studio Museum in Harlem
The Museum of Modern Art
and MoMA PS1. The Studio Museum in Harlem's digital programs have been made possible thanks to support provided by the Helen Frankenthaler Foundation's Frankenthaler Digital Initiative and Art Bridges.

Artwork photography by Paul Takeuchi